Friday Finds is a weekly feature hosted by Jenn at
Books and a Beat
which showcases the books you've added to your TBR over the past week.
I added several books to my list this week in an attempt to pull myself out of the slump that has been pestering me this past month or so.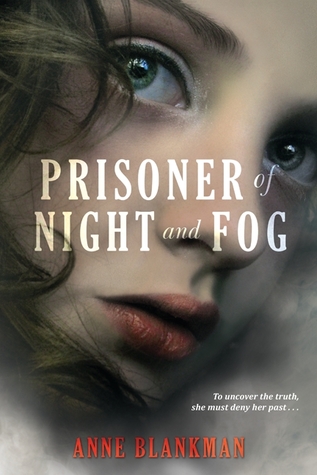 Prisoner of Night and Fog
by Anne Blankman
Historical fiction about the niece of Adolf Hitler. Looks a little more weighty than typical YA.
Not a Drop to Drink
by Mindy McGinnis
I first heard about Mindy McGinnis on
Trina's Booktube channel
, and now her books seem to be appearing everywhere for me as recommendations. This book is first in a YA dystopian duology.
Wanderlost
by Jen Malone
Summer is coming soon and that means light and breezy vacation reads! This one is a YA romance set on a bus tour of Europe.
Last Ride to Graceland
by Kim Wright
A road trip to Graceland by a woman who may or may not be a love child of Elvis Presley.
The Sparrow Sisters
by Ellen Herrick
New England magical realism about three sisters with (mildly) supernatural abilities. Looks a little like
Practical Magic
, which I've never read, though I did enjoy the movie.
Stone's Fall
by Iain Pears
Historical mystery about the death of a financier. I've considered adding this to my TBR a few different times, but I finally did!
Dangerous Lies
by Becca Fitzpatrick
A YA thriller about a girl in the Witness Protection Program (or something similar).
The Secret Diamond Sisters
by Michelle Madow
Utter brain candy! The Las Vegas adventures of three girls who find out they are the daughters of a millionaire. First in a series.
The Spiral Staircase
by Ethel Lina White
Creepy old Gothic mystery? Yes, please!