Cinder by Marissa Meyer (The Lunar Chronicles #1)
Completed 1/5/16
Fulfills 2016 Popsugar Challenge #7: A romance set in the future
Rating: 4 out of 5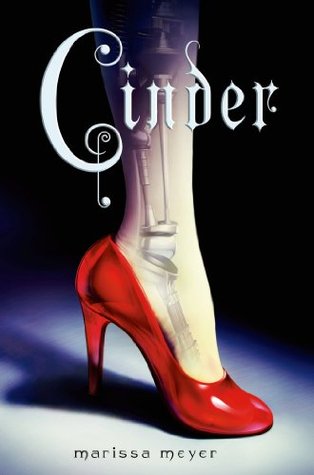 Why did I wait so long to read this book? The description was completely unappealing to me. Cinderella as a cyborg mechanic? No thanks!
Well, I finally caved in to all the positive buzz I've heard for this series, and I have to say that I'm glad I did.
Even though I saw the twist coming a mile (or two) away, the writing was still engaging enough to keep me glued to the book. Cinder is a well fleshed-out character (no pun intended), and the "world" of the novel is unique but easy to understand. I especially loved the moments of Cinder's sarcastic humor, and the chemistry between Cinder and Prince Kai is cute. Adri (stepmother) and Pearl (stepsister) are pretty flat characters, but then again, they are pretty flat in the original fairy tale as well.
I was a little disappointed to discover that this book really won't stand alone; I was under the impression that each book in the series was only loosely connected (each re-telling a different fairy tale but set in the same "world"). However, I guess now I'm committed to reading the full series to find out what's going to happen.